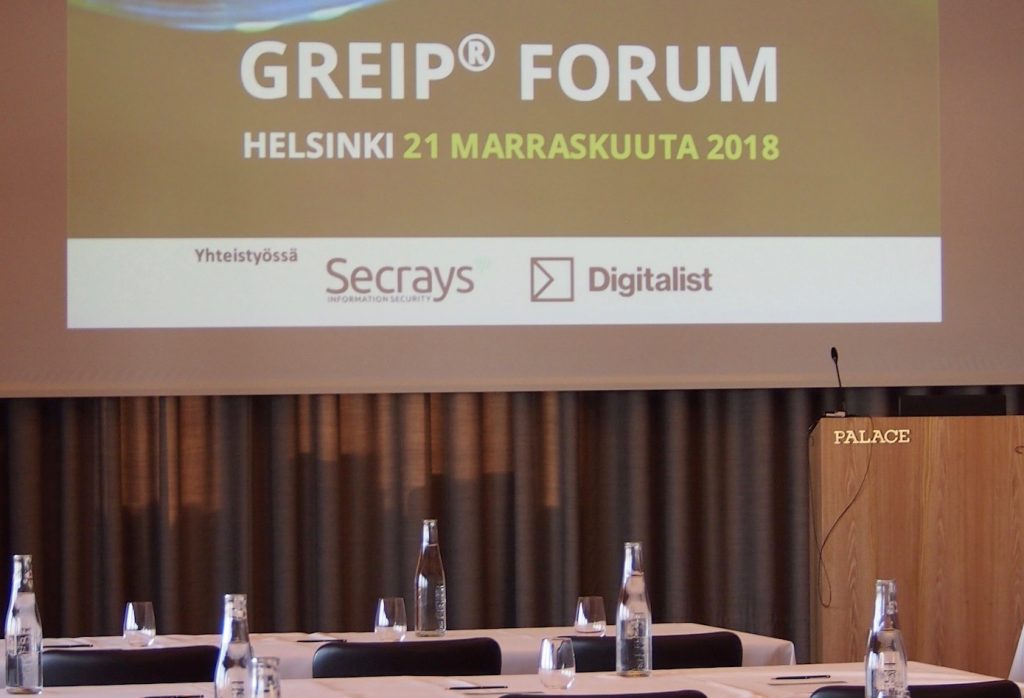 Greip Forum was held on November 21st, in restaurant Palace in Helsinki. It was the first official event of the newly established Greip IP Solutions Ltd. and it gathered together a wide range of decision makers and influencers from different companies and IP agencies.
The afternoon was kicked-off by the managing director of Greip, Marko Rapeli, who explained the brief history of evolution, resulting in the logical next step of separating the Greip business from the mother company, Berggren.
The independence of Greip as a separate company will give a huge boost to the development of the solution. The IP management SW market is changing and growing fast due to digitalization and the availability of new technologies. Greip can now concentrate fully to the essential, at the clockspeed that is required from a leading SaaS solution provider, in order to stay in the front row of changing and adressing the future of the IP management industry.
The future is going to be built around ecosystem thiking, where the growing need for collaboration is built on interoperability and trust. This takes two major areas to invest on: User eXperience and Data Security.
Technology and data security
Greip takes data security very seriously and therefore has formed a partnership with one of the leading finnish data security consulting companies, Secrays. Greip's Head of Technology, Antti Kurenniemi, presented the core elements of building a high quality, high performing, robust, flexible and secure IP management solution, together with Secray's lead security expert, Mika Tolvanen.
Mr. Tolvanen underlined that security is not an incremental piece of the development work, but something that needs to follow through the entire journey from planning to implementation to continuous development. Security development can be divided roughly into four categories: business projects, unplanned work, internal projects and operational change. As he pointed out, with Greip, the security solutions are being developed and built based on the requirements of the entire business.
Greip & User eXperience
One can easily think, that user experience is the flip side of security. However, in Greip's case, opposites attract.
Greip's Anna Backman, head of product management, presented together with Digitalist's leading UX Designer, Vexi Savijoki, the deep co-operation and work done so far, for creating the world's best IP management solution user experience.
Much like security, developing user experience, is a constant and never-ending journey, where customers, the real end-users, need to be deeply involved. During the past few months, Greip with its UX / service design partner Digitalist, has undergone a number of activities to consistantly create a solid foundation for better UX.
This has included expert evaluations, user studies, design sprinting, prototyping, validations and re-iterations, etc with our customers and various user groups. All of this to make the Greip more intuitive, more efficient, more logical and simple to use, but above all, to perfectly serve the purpose it has been developed for.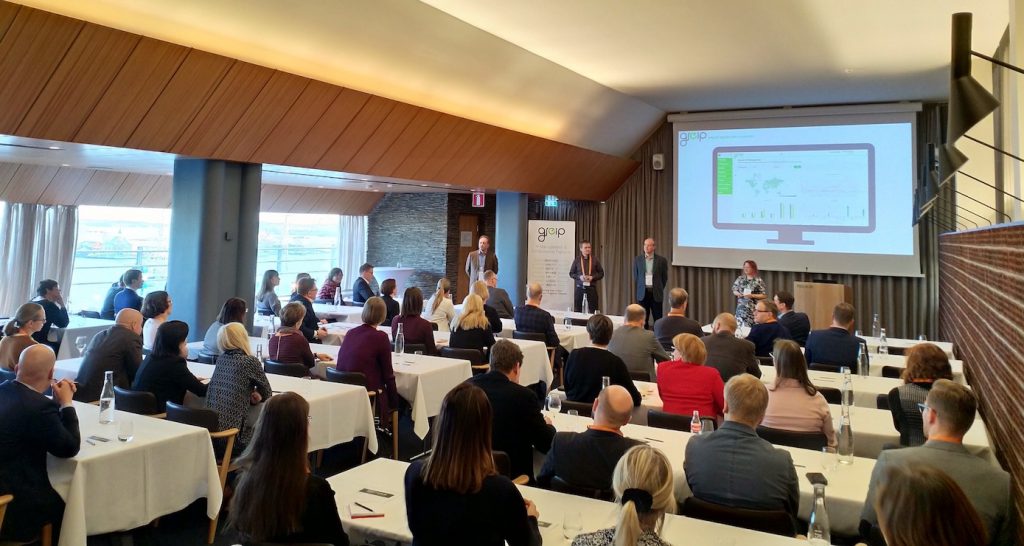 Customer cases
After a half an hour vivid and refreshing networking break, we moved on to hear about how Greip is being used by our partners in real, every day business life.
Cargotec's Henriikka Paananen and Antti Raski explained what their current IP portfolios look like and what kind of challenges and demands the holistic management of a complex world of IP holds within. Mr. Raski elaborated in an entertaining and informative way, how the selection process of their IP management solution was conducted and what resulted in selecting Greip as their partner of choice, and how they are currently making use of it, in order to support their business.
Mr. Juha Vattulainen, UPM's IPR development manager, took a more strategic angle and explained how UPM is looking at the whole ecosystem of solutions, partners and business stakeholders, to manage their IPR entity. IPR's are becoming more and more complex to manage as so many different new aspects are knitt together. IPR's are a strategic part of everyday business decision making and it requires a lot from the organisation itself and chosen partners and solutions. And it also requires a hefty amount of "citrus juice" to manage it all.
Adding more value through services
Mrs. Jatta Toro, Greip's head of services, then presented the work that has been put around developing services to make sure the customers and partners get maximum return on their investment.
Together with Vere, a leading finnish business design company, Greip has been interviewing customers, internal stakeholders and partners to get a deeper understanding of what is expected by them. In the first range of priorities, Greip will be putting more effort in the implementation and training services, but also in helping customers to develop / build / improve their processes around IP management, utilizing Greip.
The other priority is to be able to work closely together with different IP agency partners, and be able to add value to their consulting services, towards their own and joined customers, also utilizing Greip.

Final Key note – a global partnership and view of the market
The executive director of Hoffmann Eitle, one of the leading european IP agencies, Mr. Thomas Wünnemann, gave a thought triggering presentation about the changing IP industry environment.
In short, the world is changing and it requires a growing amount of collaboration between different parties – "From co-operation to collaboration" – as he put it. Hoffmann Eitle has chosen Greip as their collaboration platform. It is being integrated into their own internal IPMS systems and customer interaction of the future is being built around the Greip platform.
According to Mr. Wünnemann, the IP industry needs get out of its traditional ways of operating and "start being smart and open-minded and talk to each other".
What's next?
The feedback from the attendees has been very positive and encouriging. This has given the Greip team an additional boost of confidence that we're on the right track.
We'll continue our determined work and will be informing everybody on how things proceed. 2019 will be an exciting year for Greip and the entire IP industry – we'll be hearing from each other, in form of a smart and growing collaboration!